eCommerce Games
Posted by Todd Rivers (Owner of RDI Studio) on March 28, 2017
Recently, looking for a unique way to engage customers on Montana Treasures, an eCommerce site that I own, I dove into the arena of HTML5 games design and development.
Facebook's social media properties drive the largest audiences to the Montana Treasures web site; so, when I discovered that Facebook has started to integrate HTML5 'Instant Games' into their Messenger app and Facebook news feed, I felt it was time to cross the divide from mobile to web games development.
For the last few years, I have avoided HTML5 games development because the graphics and sound performance tests I ran in the past were poor. The few gaming javascript libraries I experimented with had been disappointing, as well.
Despite these past negative experiences, I picked up the Phaser javascript library a couple of weeks ago; and, the results have not been terrible.
A sliding puzzle game, I am calling a 'Puzzler', has been the first HTML5 game / activity I posted on the Montana Treasures Facebook page.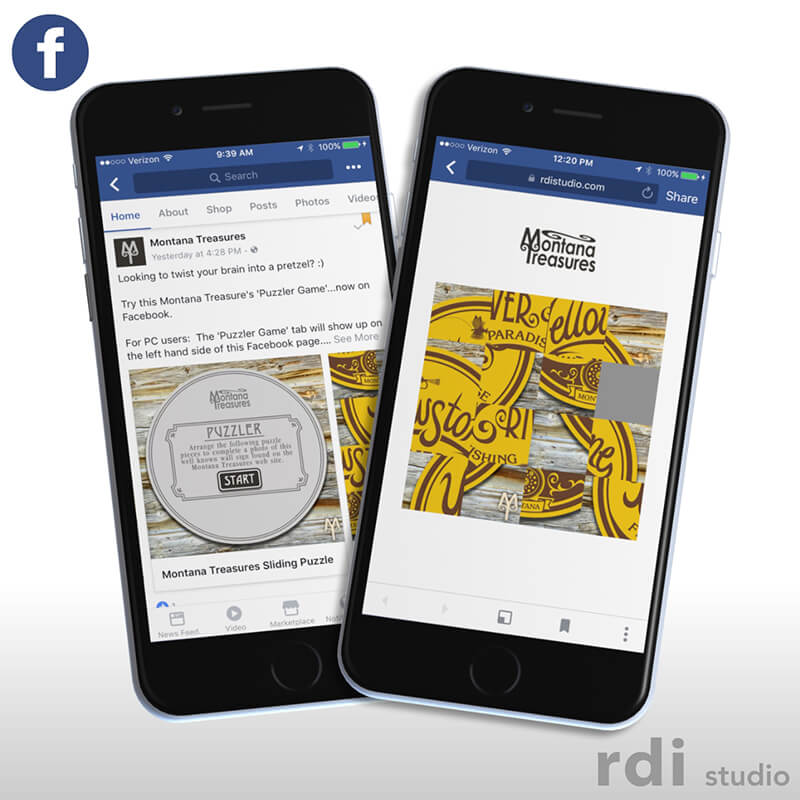 Currently, the game is only accessible on the Facebook page via a desktop 'tab' button (left hand side) or by clicking on the 'pinned' post at the top of the page.
The game is comprised of fairly simplistic code too. There is no sound and no use of timed events…both elements that I will use to evaluate Phaser more accurately.
For now, the game is one of many diversions I hope to engage customers with…allowing them to learn more about Montana and Montana Treasures products while having some fun.
What I am really excited about, however, is creating HTML5 games for the Facebook timeline or news feed…That's where the real engagement will occur. Stay tuned. :)
Please feel free to contact me on this web site if you have any questions concerning this topic or need help with your own art production or game designs.
Todd Rivers, Owner of RDI Studio